Look around – why is everyone so obese?
Obese people everywhere – and obesity "stats" are likely wrong
Below is an article that talks about obesity across the country. Not sure how accurate it is (as most "data mining" articles are utterly useless). But it's pathetic that the "least obese" state is still nearly ONE-QUARTER filled with blubbery fatties!
NJ is supposedly between 25-30% obese. We think the real numbers are staggeringly higher coast to coast. Probably 50% or more.
Kombucha, organic and gluten-free is not anyone's ticket out of flabbyville.
These Are The Fattest States In The US
By Tyler Durden
Obesity has been on the rise over the past decade across the US, despite the advent of Instagram, "athleisure" and boutique fitness classes. According to data from the CDCP, obesity has risen "significantly" in the past decade, with more than one in three American adults now qualifying as obese.
Another study from ConsumerProtect cited by MarketWatch looks at this trend in greater detail, breaking down the most and least, obese states in the country.
So, which state has the worst obesity problem? that would be West Virginia, where 38.1% of adults are obese. WVa. also has the highest diabetes rate in the country, and ranks poorly on other health metrics that often accompany obesity.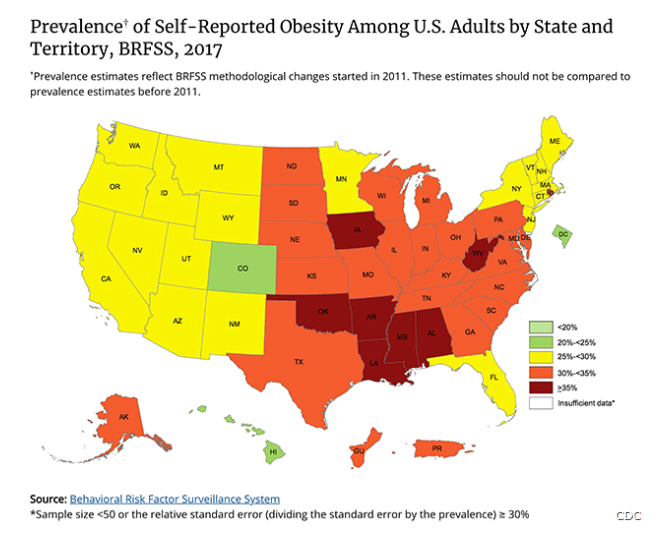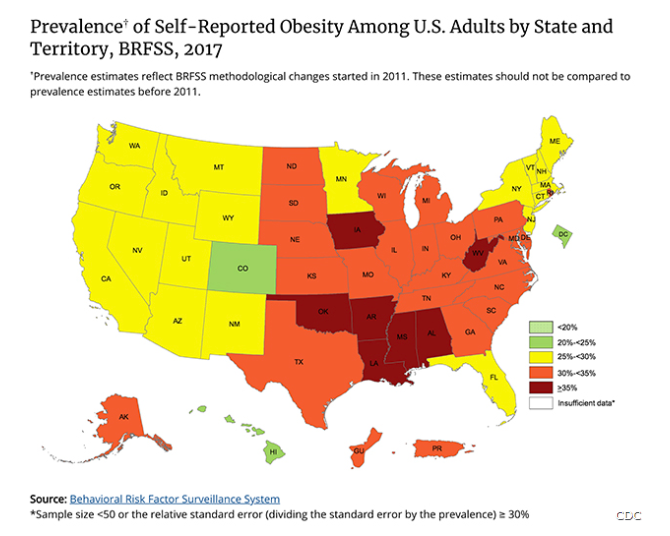 I second place is Mississippi, with 37.3% of its population qualifying for that label.
There is a long list of accompanying factors that include the lowest life expectancy, the second-lowest level of people who report engaging in no exercise and the highest rate of people who eat less than one piece of fruit a day.
On the other end of the spectrum is Colorado, which has the lowest level of obesity in the country, at less than 23%: "The proximity to beautiful outdoors and better-eating habits in Colorado result in the lowest BMI scores in the country among its citizens. Hawaii, the state with the highest life span in the country, has the third-lowest obesity rate in the country. On average, people in Hawaii live 6.5 years longer than those in Mississippi," ConsumerProtect said.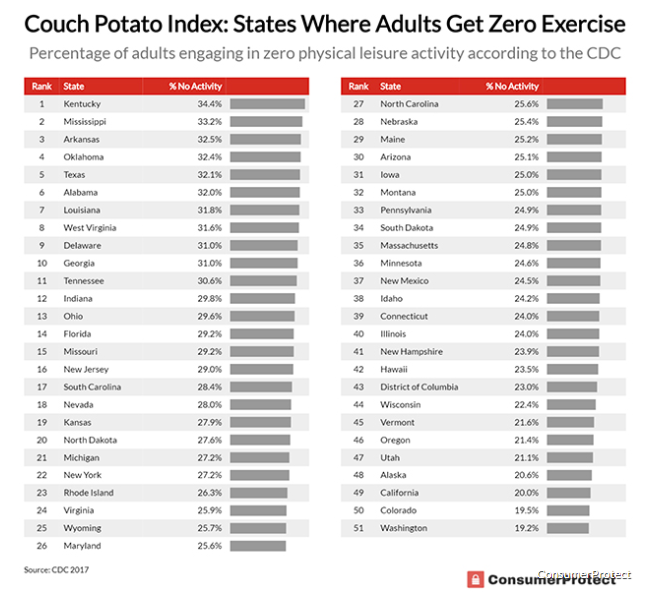 One thing that's important to remember is that obesity comes with costs both to the individual and to society at large.
Obese people shoulder medical costs that are $1,400 per year than people of average weight. Another estimate put that number at about $2,700.
Obese people generally earn less than their more svelte friends.
Already, the societal costs of obesity are extremely high: "Treating obesity and obesity-related conditions cost billions of dollars a year. By one estimate, the US spent $190 billion on obesity-related health care expenses in 2005 – double previous estimates."
What's the solution? Since diets have proven largely ineffective in terms of a long-term solution, Harvard's School of Public Health recommends that "prevention is key."